When I was six weeks old I was adopted by a very loving couple. My adoptive mother had been diagnosed with Cystic Fibrosis when she was 20 years old.
Cystic Fibrosis is an inherited disease that causes thick, sticky mucus to build up in the lungs and digestive tract. It is one of the most common chronic lung diseases in children and young adults and usually results in early death.
My mom was a fighter and lived to be the ripe old age of 53. She died from complications of Cystic Fibrosis when I was 18.
About a year after I learned that Cannabis helped with my pain, I learned that it had also been used prior to prohibition to treat Cystic Fibrosis and could have helped her with her condition. Not that my mom would have tried Cannabis, no matter what I said, because "
it's illegal
."
Cannabis is the best natural expectorant to clear the human lungs of smog, dust, phlegm and mucus. Cannabis smoke effectively dilates the airways of the lungs, the bronchi, opening them to allow more oxygen into the lungs. It is also the best natural dilator of the tiny airways of the lungs, the bronchial tubes—making cannabis the best overall bronchial dilator for 80% of the population.
Learning that the use of Cannabis, had it been legal, could have helped my mom to breath easier as well as live a longer and less painful life contributed to feeding the passion I have for promoting the truth and educating whomever I can about the benefits of cannabis.
But now, not even ten years after the death of my adoptive mom, my biological mother has been diagnosed with Stage 4 Breast Cancer. It has spread to her lymph nodes and her brain and she recently started chemotherapy.
Tonight I learned that because of dehydration caused by vomiting and the chemotherapy, she has been admitted to the hospital on the verge of kidney failure. With the advanced state of her cancer, and her reactions to the chemotherapy, the likelihood of losing her as well sometime in the not so distant future is much greater than I would like to admit.
The very first thing I learned about Cannabis when I started researching was a study out of Spain by a doctor named
Guzman
. His study showed that when injected into the tumors of lab mice, Delta9-tetrahydrocannabinol (THC) inhibited tumor growth.
Over the last 6 years there has been more and more evidence made available to the public regarding the cancer-fighting properties of Cannabis. From
Rick Simpson
with his hemp flower oil to
The Seth Group
and their work with THC & Brain Cancer, the evidence is overwhelming.
Not to forget the benefits Cannabis can provide for the side effects of cancer and chemotherapy, such as nausea and vomiting...
So I present this information to my birth mother, and her only hesitation....
It's illegal.
There is something very wrong with this country isn't there?
When we are going crazy about the need for vaccinations because of the swine flu, which kills less people than the regular flu does every year... yet there is a potential cure for cancer and we continue to keep it out of reach of those who need it by allowing it to remain illegal...
Something is obviously very, very wrong.
We should be shouting it from the roof tops...
Not only can it help end suffering for millions of people in many different ways...
CANNABIS HOLDS THE CURE FOR CANCER!!!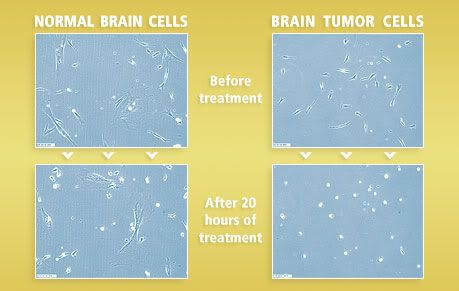 Using the same tests used to judge new chemotherapies, the SETH team discovered that the herbal compound Delta9-tetrahydrocannabinol (THC) kills human brain tumor cells at a concentration that is nontoxic to normal brain cells. A computerized microscope captured images of the cells every 5 minutes to compile the time-lapse videos. After 20 hours of treatment, Delta9-THC kills all cancer cells but leaves normal brain cells alive. Cell death is evidenced by cells shrinking to inanimate white spheres.
No chemotherapy can match this nontoxic anti-cancer action. The implication is that this plant compound could be a safe medicine against brain tumors, without the side effects of chemotherapy. These exciting results may be just the tip of the iceberg, however, because Δ9-THC is only one of many active compounds in medicinal cannabis. Other active constituents of the Cannabis plant (called cannabinoids) are also likely to have a nontoxic anti-cancer action.
Source:
www.thesethgroup.org
Rick Simpson of Nova Scotia, Canada, has been providing people who have been inflicted with various types of cancer and other terminal illnesses, with Hemp Oils made from Marijuana at no cost.
Numerous testimonies about the benefits of Hemp Oil can be found at his website and in his movie, Run from the Cure.

www.phoenixtears.ca
www.phoenixtearsmovie.com
The active ingredient in marijuana ( Delta9-tetrahydrocannabinol) cuts tumor growth in common lung cancer in half and significantly reduces the ability of the cancer to spread, say researchers at Harvard University who tested the chemical in both lab and mouse studies.
Source:
www.sciencedaily.com
A compound found in cannabis may stop breast cancer from spreading throughout the body, according to a new study by scientists at California Pacific Medical Center Research Institute. The researchers are hopeful that the compound called CBD, which is found in cannabis sativa, could be a non-toxic alternative to chemotherapy.
Source:
www.foxnews.com
One of the most exciting areas of research in the cannabinoid field is the study of the potential application of cannabinoids as antitumoral agents. Cannabinoid administration has been found to curb the growth of several types of tumor xenografts in rats and mice. Based on this preclinical evidence, a pilot clinical trial has been recently run to investigate the antitumoral action of THC on recurrent gliomas.
Source:
Journal of Clinical Investigation
Source:
www.moms4marijuana.com